Yours Magazine Subscription
In need of some daily inspiration about how to look and feel great at 50+.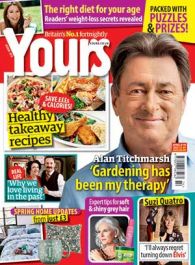 Look no further than Yours, the lifestyle magazine that offers a variety of professional tips and guidance for women looking to live life to its fullest.
Offer(s)
Print Edition
Digital Edition
Enjoy Yours magazine and unlimited access to over 5,000 magazines on your mobile and tablet. All the magazines you can read for just £7.99 a month.
Try 2 months for free.
Free Issue(s)