Sporting Gun Magazine Subscription
If an ideal Sunday involves a hunt with your gundog by your side (perhaps finishing with a good old English Sunday roast) then a Sporting Gun magazine subscription is a monthly essential for you.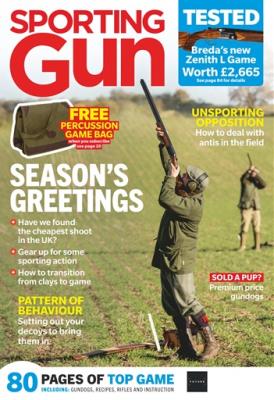 With a professional team as passionate about the sport as you are, you´ll find a practical approach to techniques, equipment, dog training, pigeon shooting, shotgun tests and game cookery. From guns and gundogs to cartridges and conservation, a Sporting Gun magazine subscription is a great first choice for all levels to improve your shooting and understanding of this exhilarating country sport.
Offer(s)
Print Edition
Digital Edition
Try FREE for 7 days.
Enjoy Sporting Gun magazine and unlimited access to over 5,000 magazines on your mobile and tablet. All the magazines you can read for just £7.99 a month.
Try 2 months for free.
Free Issue(s)